Every year United Van Lines conducts their National Movers Study by tracking their customers' state-to-state migration patterns over the past year.  United Van Lines has been tracking which states people are moving to and from since 1977. They also survey their customers to understand why they are moving from state-to-state.
So, where did Americans move in 2016?  South Dakota narrowly overtook Oregon, which held the top spot for the previous three years, as the nation's "Top Moving Destination."  Vermont inched out Oregon for the no 2. position, with Oregon rounding out the top three.
Retirees are continuing to move to the Mountain and Pacific West. The Western U.S. is represented on the high-inbound list by Oregon (67 percent), Idaho (65 percent), Washington (58 percent), Nevada (58 percent) and Arizona (57 percent). Of moves to Oregon, the highest ranking Western state, a new job or company transfer (53 percent) and retirement (19 percent) led the reasons for most inbound moves.
The Southern states also saw a high number of people moving in with 53 percent of total moves being inbound. United Van Lines found the top reasons for moving south included company transfer/new job, retirement and proximity to family.
The Northeast continues to experience a moving deficit with New Jersey (63 percent outbound), New York (63 percent) and Connecticut (60 percent) making the list of top outbound states for the second consecutive year. Pennsylvania (56 percent) also joined the top outbound list this year.
United has successfully tracked migration patterns annually on a state-by-state basis for over 40 years.  Take a look at this Infographic and visit this link to see a more detailed National Movers Study.
Where Did Americans Move in 2016?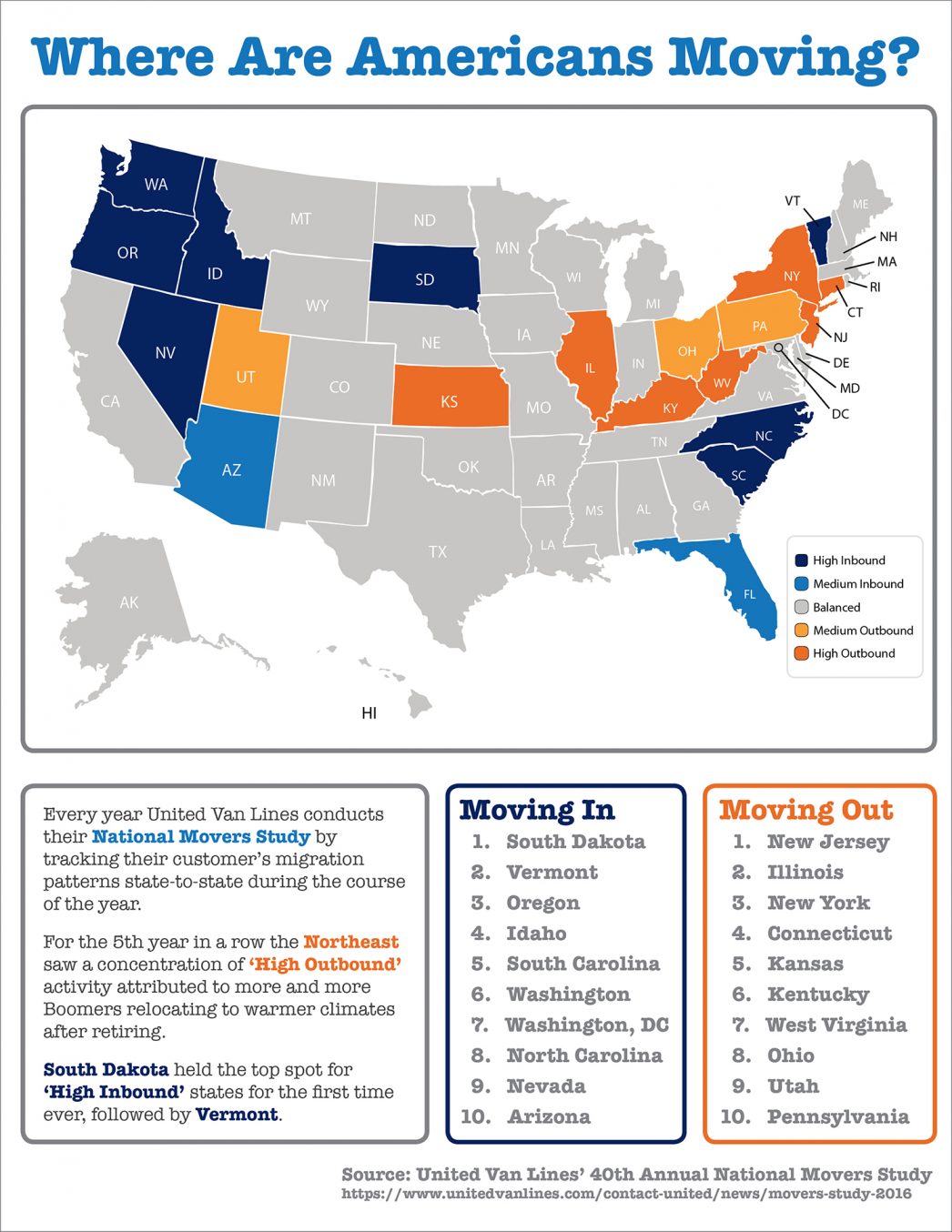 Some Highlights:
For the 5th year in a row, the Northeast saw a concentration of "High Outbound" activity.
For the first time ever, South Dakota held the top spot for "High Inbound" states.
Much of America's outbound activity can be attributed to Boomers relocating to warmer climates after retiring.
Hello I'm Mykel, the Agent behind At Home in the Inland Empire and the creator of most of the content on this website. I'd like to take a minute to Thank You for taking time to read this article. I truly appreciate the time you spend here. I look forward to your comments. Please feel free to share this article with someone you think might benefit from it.  If there is a topic you don't find here that you'd like for me to address, feel free to Contact Me. I'm always open to suggestions and ideas from our readers.
Comments
comments